Canada Business Immigration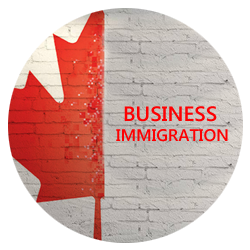 Business immigration programs are designed to invest in Canadian businesses that will contribute to the economic growth and also creating new employment opportunities for Canadians both at Federal and Provincial levels. Canada has become one of the world's most preferred destination for business and investment for business people and investors from around the world. Business immigration programs facilitate business people and investors along with their family to become a permanent resident of Canada.
Below are some of the many business/investor immigration programs at Federal and Provincial levels:
* Provincial Entrepreneur programs
* Self-employed program
* Owner Operator
The various entrepreneur and self-employed programs are designed for individuals with some experience in running or managing a business and a mid-range personal net worth who intend to establish and operate a business in Canada.
Reasons to invest in Canada
One of the world's soundest banking system. During the global financial crisis, no Canadian bank or insurance company failed or required bailouts.
Politically very stable by any standards.
Lower business costs and corporate tax rates.
Strong geographic and sectoral clusters (e.g. Aerospace, Automotive, Biomedical, Digital media, Agrifood)
The fastest growing economy amongst G7 countries.
The least corrupt country in North America and 9th in the world.
5th Largest high-tech sector and 12th most innovative country in the world.
One of the best countries for investor protection.
Why choose PIS?
Immigration law is complex and always keeps changing. Even a single minor error in your application may cause delay or rejection of the file. At Pentagon Immigration Services, we provide comprehensive expertise for your Business Immigration application. Our professional practice involves competent knowledge, honest advice and personalized services. No one can guarantee you the success of your application; it's at the full discretion of the visa officer. What we guarantee you is the careful, error-free and strategic submission of your Business Immigration application so you have very high chances of success. We stand by our clients right from initial consultation to the final decision on the file.
To know more about Business Immigration, get in touch with us today !
+1 647-323-0111
, email us :
info@pentagonimmigration.com
OR simply get started and receive your
FREE ASSESSMENT REPORT.