Provincial Nominee Program
The Provincial Nominee Program is run by each province with their own requirements for the province's overall development based on different skills and/or net worth. These programs are designed between Federal and provinces powers to fast-track provincial growth by attracting qualified candidates.
Being nominated by a province increase immensely the chance to become a permanent resident of Canada.
Below is vital information about each province and territories to choose a province of your own adaptation.
Navigate through the different provinces by clicking on them below.
Wild Rose Country
Alberta, most westerly of Canada's three Prairie Provinces with an estimated population of 4 million. It is Canada's 4th most populous province and the most populous of Canada's three prairie provinces.
Alberta's capital is Edmonton and in the south of the capital is Calgary, the largest city in Alberta. Tourist destination in Alberta includes Banff, Canmore, Jasper, Sylvan Lake, and Lake Louise.
West Edmonton Mall in Edmonton is the largest shopping mall in North America.
Alberta has a humid continental climate with warm summers and cold winters. About one-third of Alberta's land area is in agricultural use, with roughly half that agricultural land used to grow crops and the remainder to raise livestock. Alberta contains the bulk of Canada's known fossil fuels. Oil and natural gas occur widely, and major deposits of heavy crude oil and oil sands are exploited in the Lloydminster, Cold Lake, and Fort McMurray regions. Alberta produces the vast majority of Canada's natural gas and crude oil and roughly half of its coal.
The leading industries are food-processing (especially meat products), chemicals, petroleum, and wood-related products. Metal fabrication and the manufacture of machinery and equipment have also become important, and there have been significant developments in the telecommunication, biotechnology, and pharmaceutical industries.
Alberta Immigration Nominee Program nominates individuals with skills and ability to fill the job shortages in Alberta for Permanent Residence under the following three categories.
1. Alberta Opportunity Stream (New)
2. Self-Employed Farmer Stream
3. Alberta Express Entry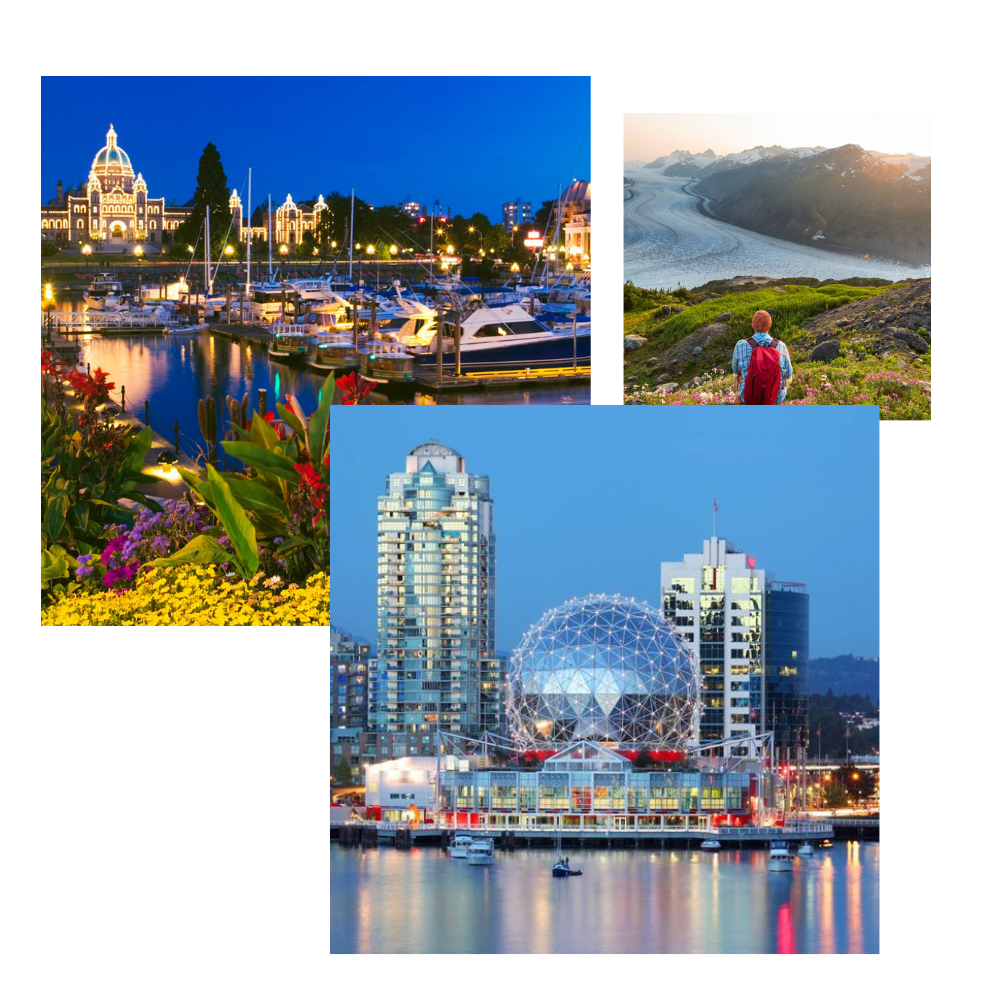 Beautiful British Columbia
British Columbia, Canada's westernmost province, is set between the Rocky Mountains and the Pacific Ocean with an estimated population of 4.8 million. It is Canada's 3rd most populous province. Victoria is the capital of the province located on the southern tip of Vancouver Island.
Vancouver is the largest city in BC. It is consistently named as one of the top five worldwide cities for livability and quality of life. Because of the Kuroshio, or Japan Current, which warms the coast, and the adjoining mountain ranges, British Columbia experiences a variety of climates and has one of the most favourable climates for people, plants, and animals. Summers are comfortably cool, while winters are not severe. Some coastal towns have average annual rainfalls of 160 inches or more.
Agriculture plays an important part in the province's economy. Forestry is the most significant of British Columbia's resource industries. Mineral resources have formed a basis of British Columbia's economy since the arrival of Europeans. British Columbia is rich in mineral resources. Copper mined principally at Kamloops, Princeton and Britannia; and coal, are the province's two largest mineral resources. Also important are natural gas, oil, zinc, gold, silver, nickel, and iron.
BC Provincial Nominee Program offers various pathways to become a permanent resident of Canada. Each pathway offers' different categories you can apply under, based on your skills, job type or international student status.
1. Skills Immigration
2. Express Entry BC
3. Entrepreneur Immigration
Friendly Manitoba
Manitoba is the easternmost of three prairie provinces in Canada. Manitoba is bordered by Saskatchewan to the west, Nunavut to the north, Ontario to the east and U.S. states North Dakota and Minnesota to the south. The province's name comes from an Indian word meaning "the God who speaks."
The estimated population of Manitoba is 1.3 Million. Winnipeg is Manitoba's largest city and the capital. The province has a range of resources to draw upon, which has allowed it to diversify its economic base. Numerous mineral deposits, including nickel, copper, gold, lead, silver, cadmium, and zinc, make mining a vital part of the economy. Manufacturing has overtaken agriculture as the largest sector of the province's economy. The traditional industries are chiefly involved with resource processing: meatpacking, flour milling, and the production of lumber, pulp, and paper. Distilling, printing, textile manufacture, and nickel and copper ore smelting also remain important. Skilled workers, trade people, and professionals are an essential part of Manitoba economy. That is why Manitoba was the first Canadian province to establish its own immigration program, the Manitoba Provincial Nominee Program.
It welcomes recent graduates, skilled workers, business people and their families who have the intention and ability to establish in Manitoba as permanent residents economically.
There are many programs under MPNP.
1. Skilled Workers in Manitoba
2. Skilled Workers Overseas
3. Business Investor Stream
4. International Education Stream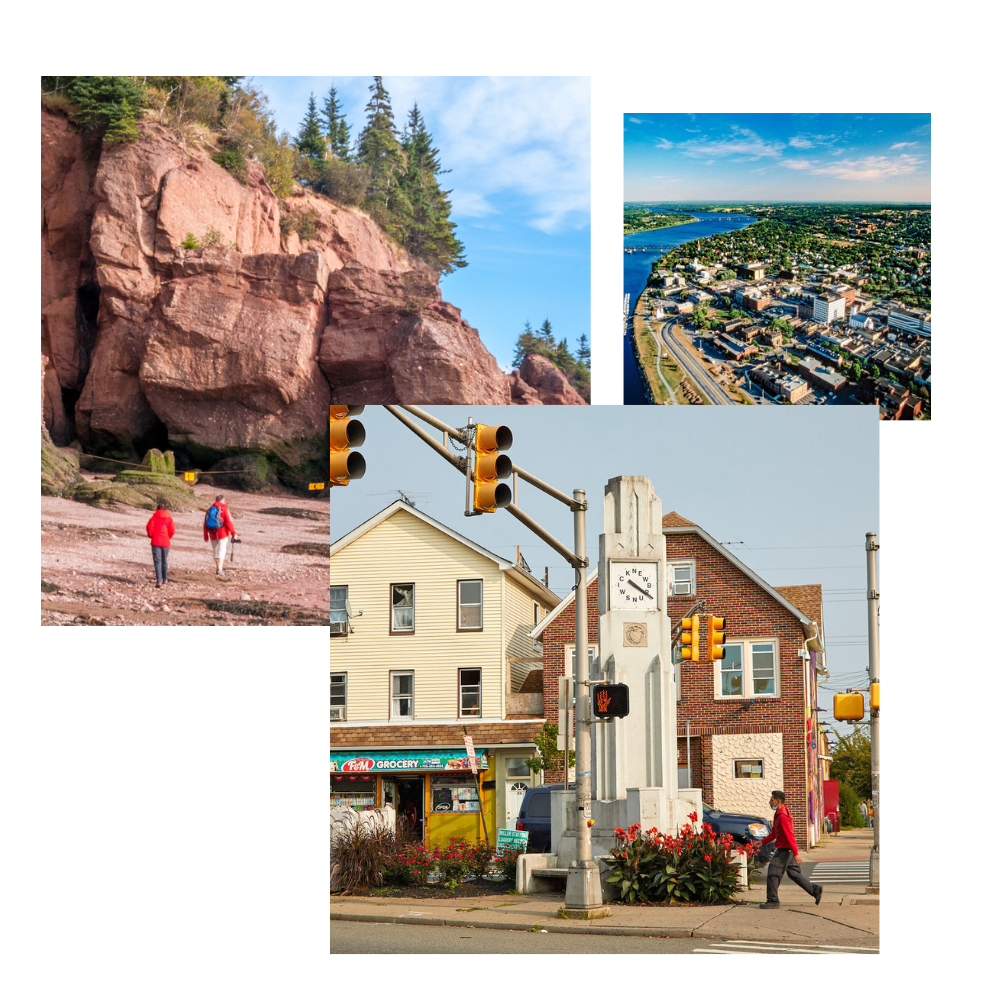 Picture Province
New Brunswick is a province located along Canada's east coast. It is one of the three Maritime provinces of the nation with the estimated population is 760,000. It is Canada's only officially bilingual province, French and English having equal status. It is bounded to the north by the province of Quebec, to the east by the Gulf of St. Lawrence and the Northumberland Strait, and to the south by the Bay of Fundy. The latter two bodies of water are separated by the narrow neck of the Chignecto Isthmus, which joins New Brunswick to Nova Scotia, to the southeast. To the west lies the U.S. state of Maine.
The discovery in New Brunswick of rich deposits of zinc and potash in the second half of the 20th century elevated the importance of mining in the provincial economy. The bulk of manufacturing industries in New Brunswick produce food products, paper, and wood products. Firms also manufacture metal goods, mineral products, and machinery. A number of small computer software companies operate in several of the province's cities as well. Tourism is a leading service industry, as the province's natural and cultural attractions, including many picturesque drives, draw many visitors. The province's advanced telephone system and bilingual workforce have attracted a telemarketing industry with call centers in several towns and cities.
Like many other Canadian provinces and territories, New Brunswick has its own immigration program streams and eligibility criteria targeting skilled workers, entrepreneurs, international graduates.
1. Skilled Worker Applicants with Employer Support
2. Skilled Worker Applicants with Family Support
3. Entrepreneurial Stream
Newfoundland and Labrador
Canada's Happy Province
Newfoundland and Labrador is Canada's easternmost province on the Atlantic coast. Newfoundland and Labrador include the island of Newfoundland and the mainland Labrador to the northwest.
Newfoundland includes more than 7000 other small islands. Newfoundland and Labrador have a combined population of 536,000, St. John's is the largest city and capital of the province. The area is productive, with a decent employment rate, along with an abundance of leisurely activities to be enjoyed. Newfoundland also boasts one of the lowest crime rates across Canada and America.
Newfoundland's people are 97.6% native English speakers. This is the highest density of native English speakers in Canada.
Mineral resources are of great importance to the provincial economy. The province's most important mining area is now situated in western Labrador, which possesses huge reserves of iron ore. Major deposits of nickel, copper, and cobalt were discovered at Voisey's Bay on the northern Labrador coast in the mid-1990S. In addition to the pulp and paper industry, there are several businesses producing various wood products and building and repairing ships and boats. Food and beverage manufacturing also employ a significant number of people. Brokerage, investment, insurance, and real estate companies are similarly widespread.
The Newfoundland and Labrador Provincial Nominee Program (NLPNP) nominates applicants who meet established criteria, for Permanent Resident Status. Each year it may nominate up to 1000 individuals from the Skilled worker, International Graduates, and Express Entry -Skilled Worker categories.
1. Skilled Worker Category
2. International Graduate Category
3. Express Entry Skilled Worker Category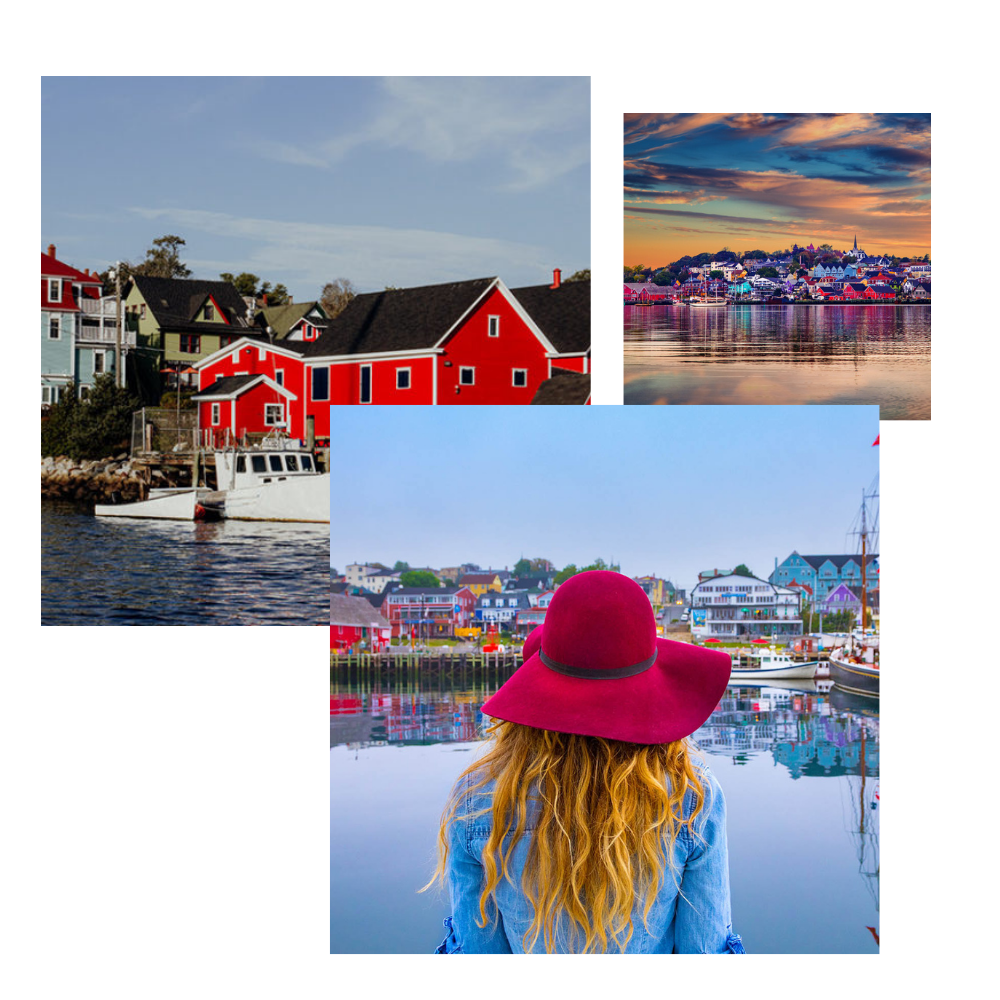 Canada's Ocean Playground
It's one of 3 Maritime provinces and one of 4 Atlantic Canada provinces located nearly halfway between the North Pole and the Equator. The estimated population of Nova Scotia is 1 million.
Nova Scotia, à Canadian province located on the eastern seaboard of North America, one of the four original provinces (along with New Brunswick, Ontario, and Quebec) that constituted the Dominion of Canada in 1867. Roughly 360 miles (580 km) long but not more than about 80 miles (130 km) wide at any point. Halifax is the capital of the province.
Nova Scotia has a diversified economy based on both land and sea resources.
Food processing, wood- and paper-related industries, metal production, and many smaller industries provide a solid manufacturing base to the provincial economy. However, most of the labour force is employed in public and private services.
Tourism is a particularly strong service industry, with more than a million people visiting the province each year.
More than one-fourth of provincial workers are employed in knowledge-based service industries, such as telecommunications, computer technology, and education.
Nova Scotia has many immigration programs through its Nova Scotia Nominee Program under which qualified applicants with the skills and experience required by Nova Scotia may be nominated to immigrate.
1. Nova Scotia Labour Market Priorities stream
2. Skilled Worker stream
3. Nova Scotia Demand: Express Entry stream
4. Nova Scotia Experience: Express Entry
5. International Graduate Entrepreneur Stream
6. Entrepreneur Stream
Yours To Discover
Ontario is the most populous and province with 40% of the country's population and the second-largest in terms of land area. Ontario is also home to Canada's capital, Ottawa. Ontario has an estimated population of 14 million. It is also the nation's wealthiest province, having a substantial share of the country's natural resources and its most mature and diversified industrial economy.
Toronto city is the capital of the province of Ontario and is the most populous metropolitan area in Canada and, as the most important city in Canada's most prosperous province, is the country's financial and commercial centre.
Ontario is one of the major agricultural regions of Canada; it possesses just over half of the country's best agricultural land, almost all of it in the southern part of the province.
Ontario is Canada's leading mining province. A large percentage of the world's nickel is mined in the province and accounts for more than one-fourth of the total value of metal production. Copper is the second most important metal; uranium, zinc, gold, iron ore, platinum, and silver also are mined.
Ontario is the leading manufacturing province in Canada and employs roughly half of the country's manufacturing workers while generating about half of the country's total value of production.
Since the 1930s, Toronto has been Canada's main financial-services centre. The Toronto Stock Exchange is easily the country's largest.
The Ontario Immigrant Nominee Program (OINP) is designed to meet Ontario's labour market and economic development priorities. There are various programs that nominate individuals for permanent residence who have the skills and experience to contribute to Ontario's economy. Many of these programs don't need you to have a job offer to apply.
1. Foreign Worker Stream
2. International Student Stream
3. In-Demand Skills Stream
4. Masters Graduate Stream
5. PhD Graduate Stream
6. Human Capital Priorities Stream
7. French-Speaking Skilled Worker Stream
8. Skilled Trades Stream
9. Corporate Stream
10. Entrepreneur Stream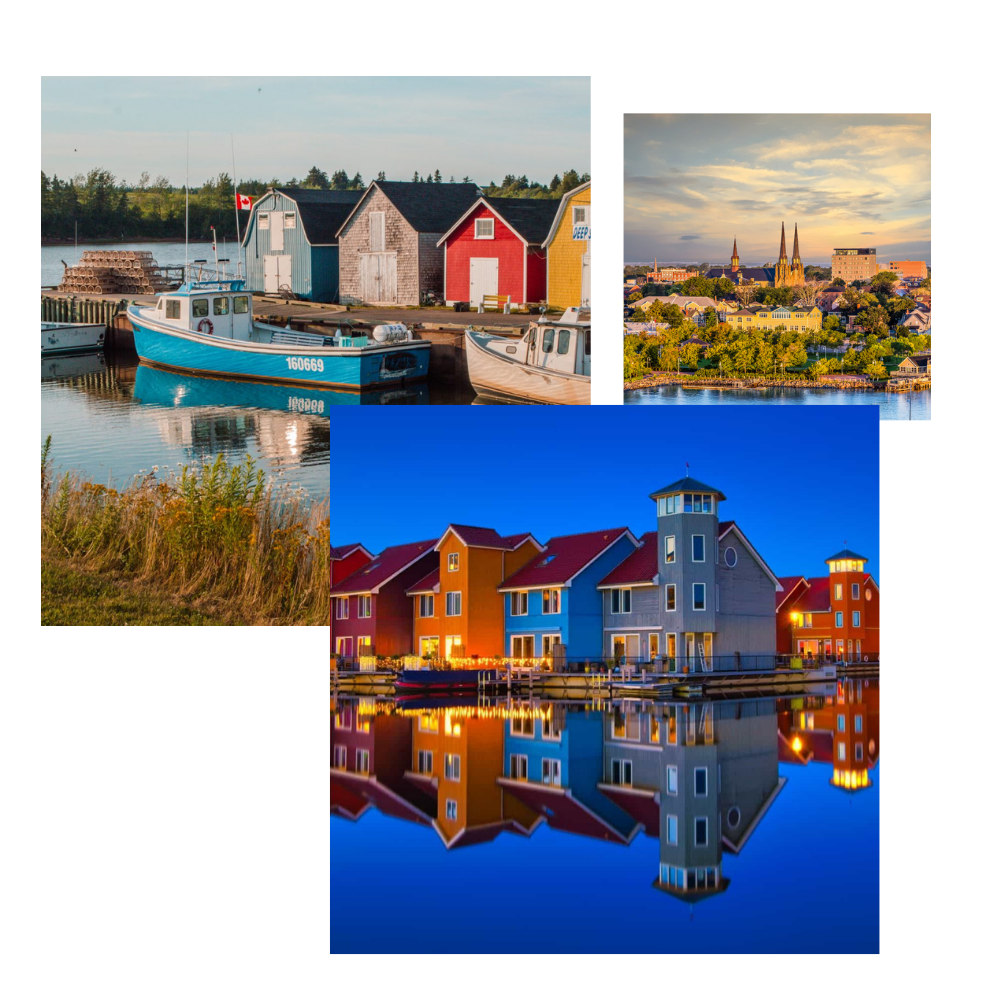 Birthplace of Confederation
Prince Edward Island is one of eastern Canada's maritime province, off New Brunswick and Nova Scotia in the Gulf of St. Lawrence. The Large Island is marked by red-sand beaches, lighthouses, and fertile farmland, and is renowned for seafood like lobster and mussels. Charlottetown, the capital, is home to Victorian government buildings & the modern Confederation Centre of the Arts, with a theatre and art gallery.
The estimated populations of PEI is 152,000. Agriculture continues to serve as a significant economic base and as the province's iconic industry. The traditional primary crop is potatoes; turnips, hay, and grains are also grown. Dairy farming is a major industry, and there are some cattle and hog raising. Lacking a local source of natural gas and oil, Prince Edward Island has been heavily reliant on imported sources of energy. The processing of frozen fried potatoes, green vegetables, and berries is a leading business activity.
Tourism constitutes a large portion of the services sector on Prince Edward Island. Annually about one million visitors, including cruise ship travellers, contribute to the island's economy and social life. The climate of the province receives a significant impact from the surrounding ocean, with warmth drawn from the waters in the fall and early winter but then cool air for most of spring and summer. With this "oceanic pump" effect, the onset of the seasons is delayed several weeks when compared with continental Canada. Measurable snowfalls are common over the long winter season from November to April.
Prince Edward Island Provincial Nominee Program (PNP) nominates individuals for Permanent Residency based on their ability to establish economically and intention to live and work in PEI .
There are many programs targeting skilled and semi-skilled workers, international graduates and business owners.
1. PEI Express Entry
2. Skilled Workers in PEI
3. Skilled Workers Outside Canada
4. Critical Workers
5. International Graduates
6. Entrepreneur
Land of Living Skies
Saskatchewan is one of the prairie provinces in Canada that is bordered by the province of Alberta to the west, the Northwest Territories to the north, Manitoba to the east and the U.S. states North Dakota and Montana to the south. It is one of only two Canadian provinces without a saltwater coast, and it is the only province whose boundaries are all wholly artificial (i.e., not formed by natural features).
The population of Saskatchewan is estimated at 1.1 million. Most people live in the southern half of Saskatchewan, of which 258,000 live in the largest city, Saskatoon. The provincial capital of Saskatchewan is Regina, which is also the second-largest city with 232,000 people. Regina is the commercial and cultural centre of southern Saskatchewan.
Saskatchewan's landscape makes its inhabitants conscious of the sky, and the changing patterns of light and shadow on clouds, which commonly offer magnificent sunrises and sunsets, are as much a part of the scenery as any contour of the earth.
Saskatchewan has a wide variety of mineral resources, including oil, potash, and uranium. Potash, which is mainly used for fertilizer, is found in a band running diagonally across the province from west to east.
Saskatchewan is one of the world's largest producers and exporters of potash. The province is also a significant producer of oil and natural gas. Other significant minerals include gold, salt, sodium sulfate, lignite, zinc, copper, and a variety of clays.
Saskatchewan Immigrant Nominee Program (SINP) offers qualified applicants a pathway to immigrate to Canada:
1. International Skilled Worker Category: This program is for skilled workers abroad who want to work and live in Saskatchewan.
2. Saskatchewan Experience Category: is for foreign nationals who are currently living and working in Saskatchewan.
3. Entrepreneur Category: is for entrepreneurs who plan to start a business in Saskatchewan.
4. Farm Category: is for experienced farmers who plan to buy and operate a farm in Saskatchewan.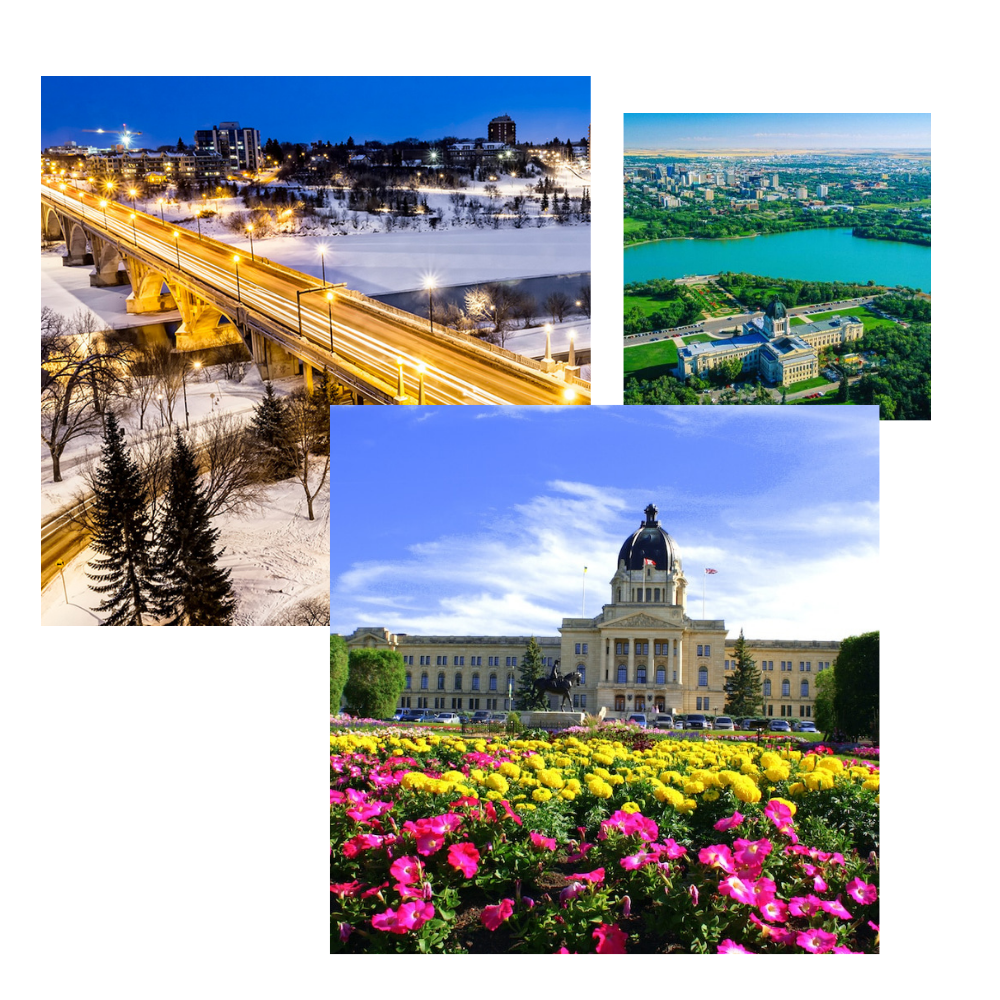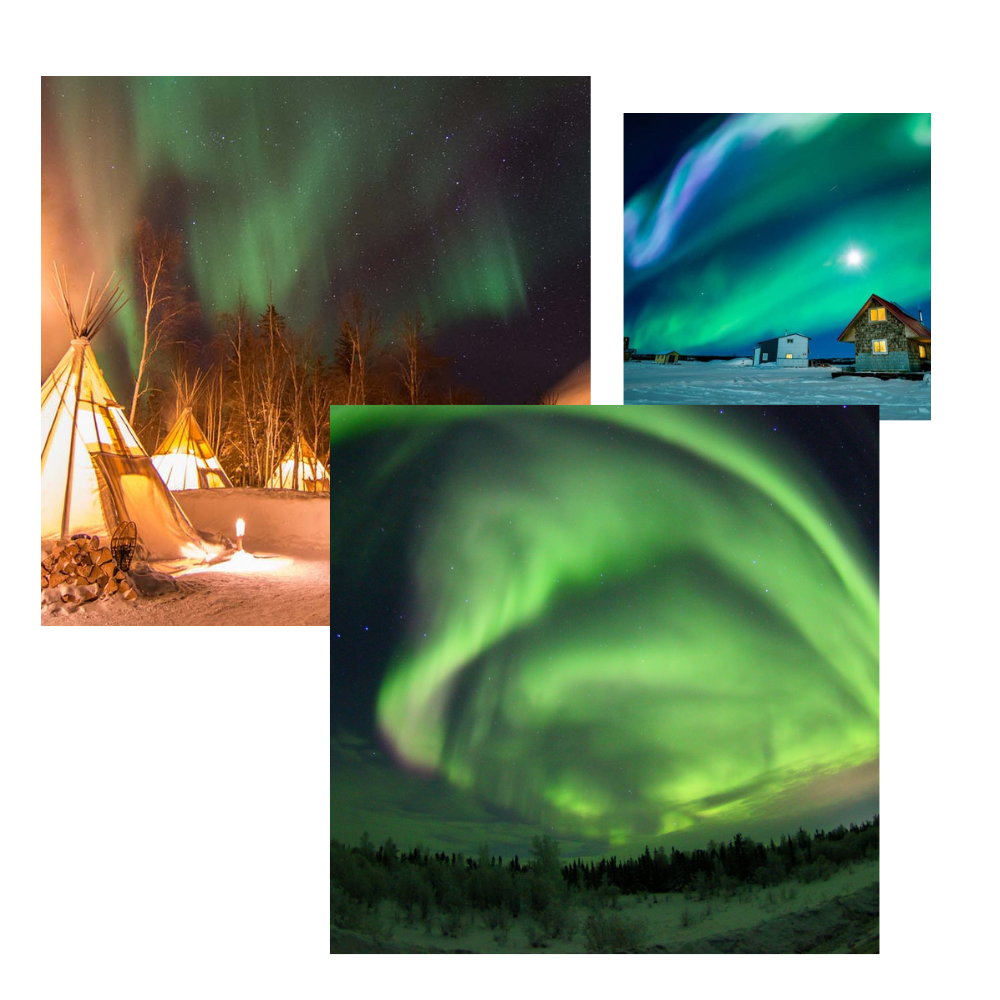 Spectacular Northwest Territories
A beautiful land, the Northwest Territories (NWT) in northern Canada is a great place to establish yourself and safely raise your family. An estimated population of NWT is 45000.
There are many reasons to consider immigrating here. There are many excellent employment prospects. The NWT boasts the highest median household income in Canada. It's Capital and largest city, Yellowknife boasts the highest employment rate in the country.
Mining has been the principal non-renewable resource industry of the territories. Gold has been mined at Yellowknife on the north shore of Great Slave Lake since the late 1930s. Although mining is the dominant industry in the territories, services constitute a vital part of the economy.
Tourism is also an important portion of the service sector; adventure tours, driving tours, sport fishing, hunting, and such natural phenomena as the aurora borealis and long summer days attract visitors from other parts of Canada, Japan, and the United States.
Northwest Territories Nominee Program has the following three categories under which foreign nationals who wish to work and live in Northwest Territories may be qualified.
1. Critical Impact Workers
2. Skilled Workers
3. Express Entry System for Skilled Workers
Klondike
Yukon (originally named Yukon Territory) is the westernmost and the smallest of Canada's territories with an estimated population of 35000 people. The capital is Whitehorse, which is also the largest city in the territory.
Most of Yukon has a subarctic climate, characterised by long cold winters and brief warm summers. Since the late 19th century, mining has been Yukon's most important extractive industry
The extensive and varied mineral resources include deposits of combined silver-lead and lead-zinc ores and copper, coal, iron, and some petroleum and natural gas.
Tourism is a rapidly expanding sector and a mainstay of the territorial economy. Wilderness tourism—encompassing activities such as guided river travel, backpacking, and horseback riding—represents a large part of Yukon's attraction for tourists.
Yukon Nominee Program gives an opportunity for qualified skilled and semi-skilled worker to be nominated for permanent resident.
1. Express Entry stream
2. Skilled Worker Program
3. Critical Impact Worker Program
How can Pentagon Immigration Help you?
Immigration law is complex and always keeps changing. Even a single minor error in your application may cause delay or rejection of the file. At Pentagon Immigration Services, we provide comprehensive expertise for your Express Entry application. Our professional practice involves competent knowledge, honest advice and personalized services. No one can guarantee you the success of your application; it's at full discretion of the visa officer. What we guarantee you is the careful, error-free and strategic submission of your Express Entry application so you have very high chances of success. We stand by our clients right from initial consultation to the final decision on the file. And this is not it. We care for our clients, that's why we provide them with pre-departure orientation and settlement services so they can be well integrated in Canada comfortably.
To know more about PNPs, get in touch with us today!
What immigration program is good for me?
Whether you are looking to immigrate to Canada temporarily or permanently, there are currently more than 60 programs available for immigration to Canada. But every individual's situation is different and so is the program requirements.
That's is why it is important that proper and careful assessment of your profile is done to determine your eligibility for one or more programs suitable for you.
You can take advantage of our 'Free Assessment' tool and check your eligibility for immigration to Canada. Once you have submitted the assessment form, it will be reviewed by our expert and qualified 'Regulated Canadian Immigration Consultant (RCIC)' and you will be invited to have a 'Free Initial Consultation' with an RCIC either in person or over the phone at your convenience where you will be presented with your available options for immigration to Canada. In case you are not eligible now, it will still allow you to understand the line of actions you can take to be eligible in near future.
What documents are required while creating an Express Entry Profile?
You must meet the minimum eligibility requirement for at least one of the three categories of Express Entry program before you can create your online profile. Three programs are Federarl Skille worker, Federal Skilled Trade and Canadian Experience Class.
Certain documents are required while creating an Express Entry profile. However, you need to have some or all of the following documents to enter the information only; you don't have to upload these documents while creating the profile.
Passport or Travel Document
Language test results
Education Credential Assessment (ECA) to claim points for education outside Canada
Provincial Nomination (If available)
Valid job offer letter from a Canadian employer (If available)
That's is why it is important that proper and careful assessment of your profile is done to determine your eligibility for one or more programs suitable for you.
You can take advantage of our 'Free Assessment' tool and check your eligibility for immigration to Canada. Once you have submitted the assessment form, it will be reviewed by our expert and qualified 'Regulated Canadian Immigration Consultant (RCIC)' and you will be invited to have a 'Free Initial Consultation' with an RCIC either in person or over the phone at your convenience where you will be presented with your available options for immigration to Canada. In case you are not eligible now, it will still allow you to understand the line of actions you can take to be eligible in near future.
Who can represent my case for immigration to Canada?
Anyone who provides advice and representation on Canadian Immigration or Citizenship matters for a fee is required to be a member in good standing of ICCRC or Chambre des notaires du Québec or a Canadian provincial or territorial law society of Canada according to the Canadian law.
"Immigration Consultants of Canada Regulatory Council (ICCRC)" is the national regulatory body for 'Regulated Canadian Immigration Consultants (RCIC)'. An RCIC can advise you on Canadian Immigration matters and represent your case to "Immigration Refugee and Citizenship Canada (IRCC)"
Vaibhav Kalbhor is a Regulated Canadian Immigration Consultant (RCIC) R531255, a member of ICCRC in good standing and is authorized by IRCC to represent your interests in Canada Immigration matters.
IRCC does not deal with representatives who charge a fee but are not authorized. If you use such a representative, your file may be returned or even rejected.